Hideout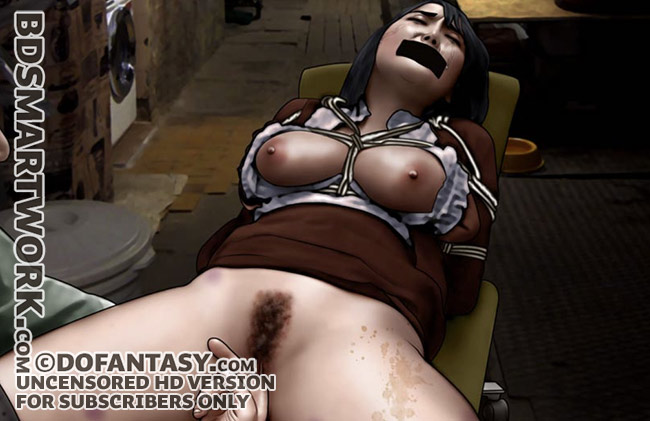 The woman was bound crouching, moaning softly as she saw Orluck's walk up next to her. "I have certainly enjoyed you, number seven. You have been a much better fuck than I ever imagined. Did you ever think you'd cum as hard as you did with a strange cock inside you? An abnormally huge cock, it's true … but a foreign one to be sure??"
He moved to the small work bench and began organizing and arranging several items. She couldn't see what but the dread inside grew.
"Unfortunately for you, slut number seven, we need to move along to complete my art project. Frankly, you were such an unobtrusive, innocuous member of my jury. Sitting quietly, day after day, as they said all those horrible things about me … and then voted for my guilt. Unobtrusive and innocuous."
Orluck picked up a large steel rod from the table, "And now you'll become an innocuous, unobtrusive piece of art … just for me." Time and again, the steel rod pierced the woman's most delicate parts = piercing her nipples, piercing pussy lips, her breasts and even her clit. Each hole was then fitted with metal eyelets to keep the each hole round and secure. This was just the start as Orluck then began to fit her with large metal bands around her wrists, biceps, ankles, waist and her thighs. The bands were tap welded closed.