Tied together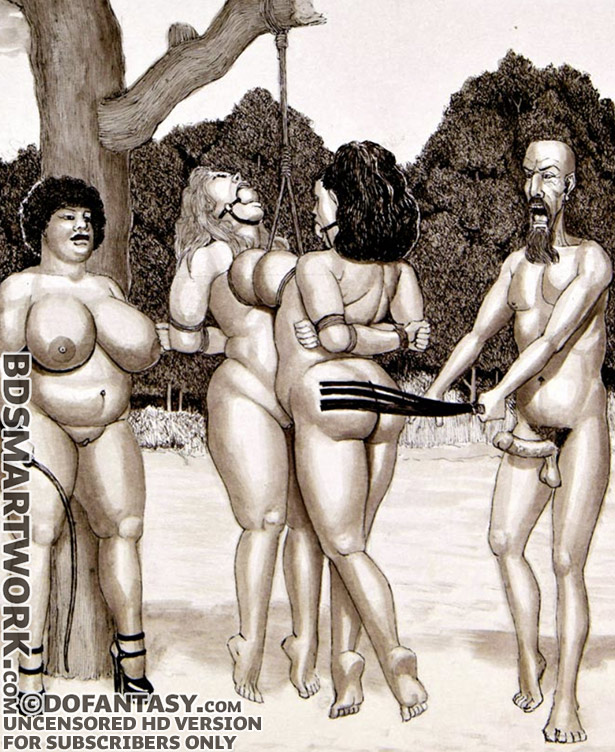 Every time Hugh had a flogger in his hand and a butt to flog, he flogged good and hard…
"Take that, bitch! For covering up your ass!"
SWIIIIIIIIISH!
THWAAACK!
"MMMMMFGGGGGGGGG!!!"
Hugh's wife was getting excited at the sound of the leather on buttocks… She stopped him
"My turn!" she yelled.
"Look up at the sky, bitches! Get your heads out of the way!"
She was good with a whip and she brought it down vertically onto their large breasts.
SWIIIIIIIIIIIIIIIIIIIIISH!
SLAAAAAAAP!
"MMMMMFGGGGGGGGGGGGGGGGGGGGGGGGGG!!!"
"Rub your nipples together!" she shouted. "I can cum like that, just with my nipples!"
The girls rubbed their nipples against each other. They were soon gasping and moaning, but they didn't look as if they were going to cum.
Hugh released them but he left their arms tied. He took them into the house and made them lie back side by side on the kitchen table with their feet on the floor and their legs open wide.
"Take cock, slut! Right up your cunt!" Hugh said as he slid his cock in.
"Take tongue, slut!" his wife said as she licked the blonde.
Hugh had a good fuck. He made the brunette groan with enforced pleasure and he also the blonde next to him to look at as his wife licked her cunt.
It all became one big, sweaty, noisy fuck. His wife joined in, rubbing her nipples with one hand and masturbating with the other…