Slave of war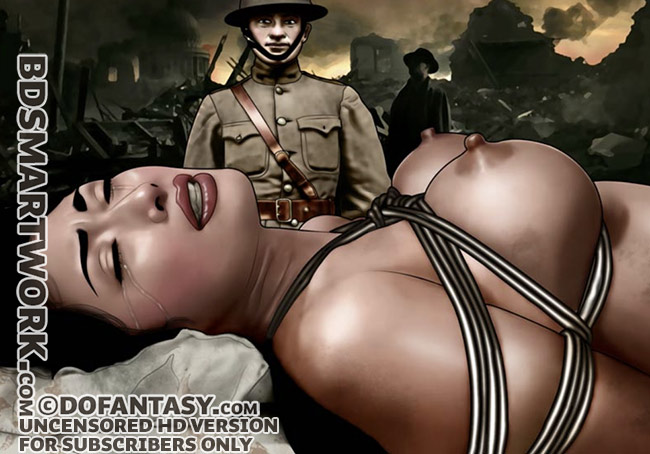 Instead, they commenced the less rigorous activities of being away from the fight- drinking, gambling and abusing their attractive warslave. The captive scientist had spent segments of several hours each day in a different hut, servicing cock after cock either with her mouth, her pussy or her ass … sometimes with all three. And after each session she was paraded, dripping with cum, to the middle of the camp and forced to bath in a trough of hot soapy in plain view of any of the soldiers who wanted additional entertainment with their booze or meal.
Afterwards, she would be dragged back to the billet area and taken to the next hut for more fucking and forced pleasure. Late in the evening she would be bathed again, locked in a pen and allowed a few hours sleep before her sexual service would start all over again.
After several long, agonizing days of this treatment, she was bathed and moved the center of the camp. The unit commander was already announcing her as the centerpiece of a unit-building exercise where all the men – 33 in all – would participate.
She was bound tightly and strapped to a cloth-covered wooden table, laying on her back, with her long legs spread wide. The unit medic stepped between her legs and used a needle to pierce her clit with a thin metal ring. The warslave screeched in pain as the needle burrowed into and through her sensitive nub. Wires were then attached to each end of the needle while wired clamps were attached to her succulent nipples. She yelped as electric current began to flow flow into her sex.
"Gentlemen!" the commander shouted. "Pick your raffle numbers now … whoever predicts how many times this bitch cums, receives a 2-day pass to fuck her anyway, anyhow you want!! 20 minutes of shocking sexy electricity, starting now!!"