Slave of war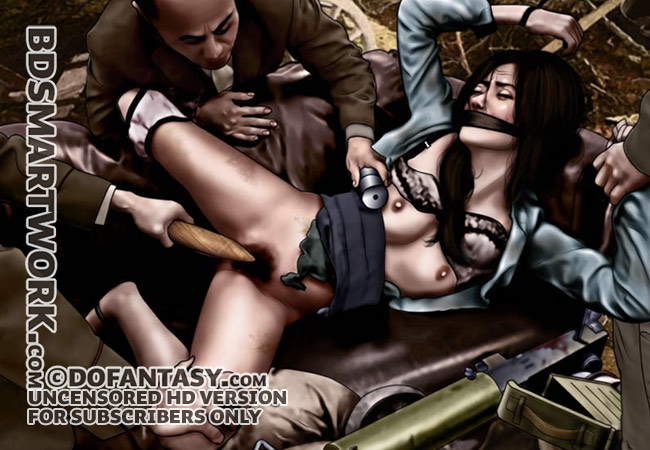 Three fingers were shoved into her dripping snatch, "She's still sloppy from her last fuck!" The man slipped a fourth finger inside her as the woman moaned and squirmed to escape the attention. He shoved and twisted his hand and it soon was buried deep in her pussy. His fisting was hard and fast.
Another Baschan soldier, yanked a medallion off a scorched enemy jacket and opened the clasp to extend the needle-like pin which held it on. He took a firm grasp of her right nipple and roughly pierced the medal through the tender brown flesh. "There, now you've been awarded a medal for having a fist in your pussy in combat."
The warslave was suddenly yanked to her feet and led across the camp center. The medal dangled and bounced from her pierced nipple and her gaping cunt dripped stale semen down her thighs. She was tossed into firing position and staked to the ground in the midst of a broken Vickers machine gun and several ammo boxes.
A soldier yelled from across the grounds, "Captain, we've loaded the truck and we're ready."