Slave of war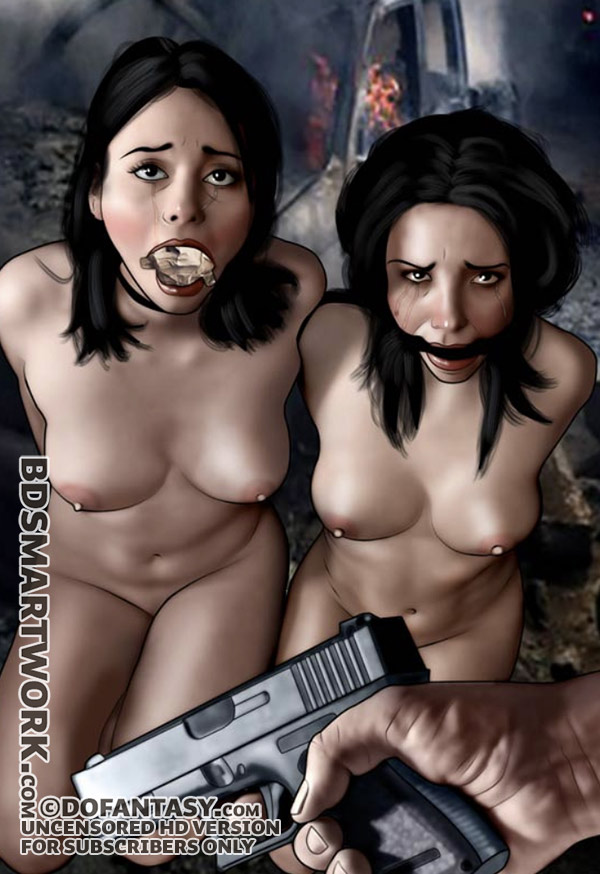 The top-sergeant stood over them. "So you don't like cock, is that the problem, dyke?"
The woman mumbled angrily behind the filthy panties in her mouth.
"Well, then your friend can take all the cocks meant for you. We certainly don't want upset your delicate sensibilities. And instead of eating dick, you can service as the squad urinal." He turned back to the men and women of the squad ignoring the panicked look on the girls' faces.
"Take the lesbo and strap her to the flag pole. Hurley! Do you still have that dummy grenade?"
Private Hurley stepped forward and produced the dummy practice grenade. Yes, sergeant. Here it is."
"Good, pull the pin and strap the ring in her mouth to keep it open. Stuff the grenade up her pussy."
Hurley scooped up some grease from the nearby mess set and went to work. In minute the beautiful lesbian was strapped to the pole – her mouth held open by the metal ring and moaning with the grenade stuffed deep in her pussy.
Hurley began to undo his trousers, "Gentlemen, and ladies, the squad urinal is now open for business!" With that he stuffed his thick cock into her mouth and let loose a heavy stream of piss down her throat. The women gurgled and gagged but had no choice but to swallow the urine. She gasped as Hurley stepped away, seeing that several men were already lining up to piss in her mouth.