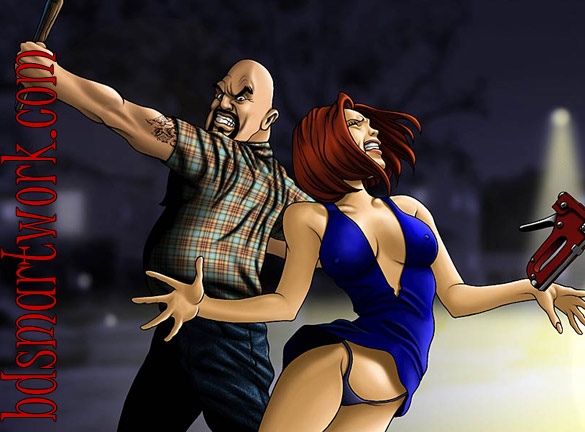 Relaxed and comfortable, Sanchez approached the redhead. He knew this was the right choice, the perfect girl with whom he could continue and expand his abuse of Olivia, a lovely bitch to feed to his monster of a cock.
After walking through the darkness, Sanchez came into the light cast by the headlamps of Madison's Ford Mustang. The girl was still looking at the poster she had stapled to the pole when the man moved unnoticed behind her. His hand gripped a black jack as his muscular arm swung up quickly from his side.
With brutal strength Sanchez smacked the red haired girl across the back of her head.
"Lights out, slut."
Sanchez moved in, stooped, and caught the collapsing cutie on his shoulder. She was light as a feather to him.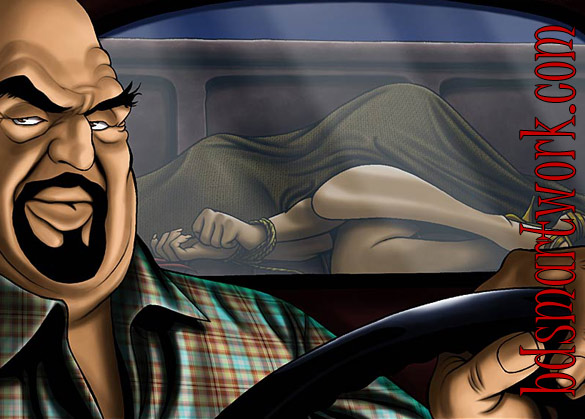 Driving with one hand, Sanchez kept rubbing his dick. His eyes couldn't help but look in the rearview mirror at the way the curves of his fresh slavegirl made hills under the blanket.
The drive to his shack in the desert took some time.
"Time goes awful slow when you've got such a rapeable beauty in the back of your truck. But I bet time is about to go a lot slower for this little cunt when she wakes up tied down in my cellar. Ha!"
As he left the city and gained speed, the wind swirling into the pickup bed lifted the blanket off Madison bit by bit, revealing more and more of the girl to her captor.
"Two girls. Two helpless bitches. Two asses to punish. Two pairs of tits to abuse. Two sets of holes to fuck. Two screaming mouths."
His dick throbbed in his pants, but his foot remained steady on the accelerator.