Hair torment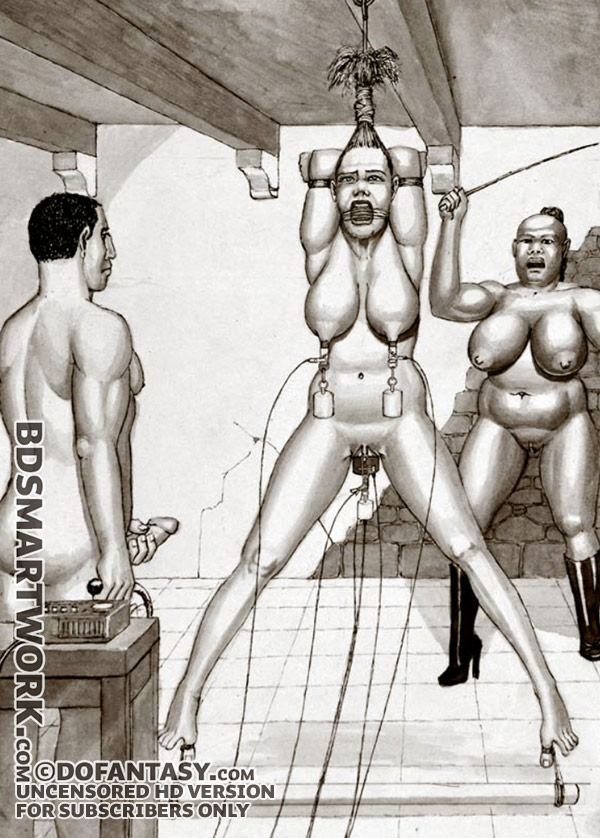 So they joined the Hair Club. They looked through the catalogue and rented some gear too: ropes, weights and electrical equipment. They used it all. Susan stood behind him with a riding crop and he held his cock and the controls.
"Move, bitch!" he shouted. "Shake those tits around!"
The girl tried, but it was difficult. Susan pulled her arm back and caught the girl a stinging blow across the back…
SWIIIIISH!
SLAP!
"AAAAAAAAAAGHHHHHHHHHHHHHHHHHHHH!!!"
The girl arched her back and pulled her breasts up. It was painful because of the weights on them. The breasts moved around a little, but William was disappointed. He liked a big bounce followed by a slow settling back into place. He wanted her to bounce like the girl cyclists with low-cut tops who wobble when they go over bumps in the road.
Susan shouted to him:
"The bitch ain't moving them tits at all! You gotta do something about that!"
William nodded and selected the switch connected to the girl's nipples…
ZZZZZZZZZZZZZZZ!!!
"AAAAAAAAAAAAAAAAAAAAAAAAAAAAAAGHHHHHHHHHHHHHH!!!"
That was better!
"Give me the crop," he said. "I wanna mark those tits!" She handed it to him and he stood to one side…
SWIIIIIIIIIIISH!
SLAAAAP!
"AAAAAAAAGHHHHHHHHHHHHHHHHHHHH!!!"